Recipe for success - Rational Leadership and Constant Cvolution
The Port has a long-term partnership with Business Engineering Group.
Наша компания давно сотрудничает с компанией «Бизнес Инжиниринг Групп» (http://bigc.ru/Under the motto of rational leadership and constant evolution, our managers and their deputies underwent training in the port on topics related to issued of modern management within the framework of the "Organizational Development of the Port" project. Our company has been long co-operating with the Business Engineering Group (http://bigc.ru/), which has been developing methods and practices for over 20 years in business management.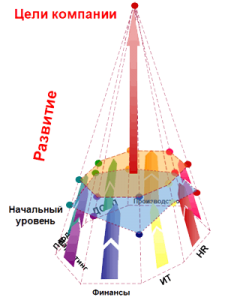 "The port has been working on improving management activities for a long time, and an information system is being introduced to automate the main business processes. We are moving to another qualitative level, where it is necessary to apply a systematic approach to management, which will help to link the solution of such tasks as creating customer value for our customer, improving operating activities, increasing the efficiency of asset use and increasing labor productivity. It is impossible to implement all this without a conscious understanding of managers at all levels of how to manage in today's rapidly changing world, which is on the verge of an era of digitalization of companies' activities, the transition to a "digital economy". Mr. Gostev (Director for Economics and Finance of Port Vysotsk). Гостев Д.А. (Директор по экономике и финансам).
"It is gratifying for us that the port is constantly working to improve the management system and there is an understanding of the management about the need to develop the organisation on the basis of modern approaches based on the latest scientific achievements in this area. One of the important tools for improving the performance of Russian enterprises today is the use of systematic management of process organisation based on a digital model, and we were pleased to hold seminars in the port on the topic "Organisational Development and Performance Management - Process and Architectural Approaches". We see how the port is developing successfully and are confident that our joint work will ensure sustainable business growth and lay the foundation for increasing its efficiency for a long time to come." - Mr. Grigoriev (General Director of Business Engineering Group).Организационное развитие и управление эффективностью – процессный и архитектурный подходы». Мы видим, как успешно развивается порт и уверены, что наша совместная работа позволит обеспечить устойчивый рост бизнеса и заложит фундамент повышения его эффективности на долгое время». – Григорьев Л.Ю. (Генеральный директор «Бизнес Инжиниринг Групп).